Sidebar
How To Start A Party Rental Business
The rental industry is all about supporting each other. Party rental companies target different customers and only need to compete with the few local companies in their area. This allows for an industry to grow from the support of one another. This article is not to be taken as a step-by-step guide to get your party rental company raking in millions. Instead, you should use this article as a tool to build a foundation for what will be a prosperous business. It will take time, dedication, resources, and a passion for the event industry. A large portion of our business and the products we offer are sold to rental companies and event venues. Knowledge of the rental industry and the plethora of information that is involved with it is something we feel should be passed along to our customers. If you are familiar with the industry, then some of this information may be familiar to you. Take what you will from it and pass it along.
Research Your Industry
Starting a business first requires researching your intended market. In the rental industry this consists of looking at your demographics, your competition, what your services should cost, and what the demand is for these services in your area. When researching the demographics, there are a few questions you should ask. For example:
Who are the current customers?
What is the purchasing power of your target customers?
What is the lifestyle of the customers you are trying to target?
Looking at your competition, will give insight on what methods work for them, how they operate, and the services and prices they offer. Do not copy your competitor's business or you will most likely fail. In fact, you should try to think outside the box. Look at your competition not for a business strategy that can be copied, but as a way to see how you can do things differently. What can your party rental company offer that these other guys do not? When doing research, look around the city you will be doing business in. Are you only renting to customers in the same city? Perhaps you want to offer delivery services to the surrounding cities. What kinds of venues and how many are available in your neighborhood?

Look at your competition not for a business strategy that can be copied, but as a way to see how you can do things differently.
Develop a Business Plan
Before hitting the ground running, a business plan should be one of the first things you develop. You will need a clear strategy that defines your goals as a business and provides a road map for you as you start your journey to building your company and image. New businesses often neglect or even disregard creating a business plan because of its reputation for being an overwhelmingly difficult task. However , the only way to properly track progress and results is by laying out your company's plans on paper. It is also worth noting, that if you are needing business financing from a lender they will require a submitted proposal / business plan.
Your business plan should summarize your business and your overall goals as a company. You will also need to include an analysis of the rental market, a marketing and sales plan, a description of your products & services, and financial projections based on your market analysis. The best way to prevent your rental company from flopping is by planning ahead.

The only way to properly track progress and results is by laying out your company's plans on paper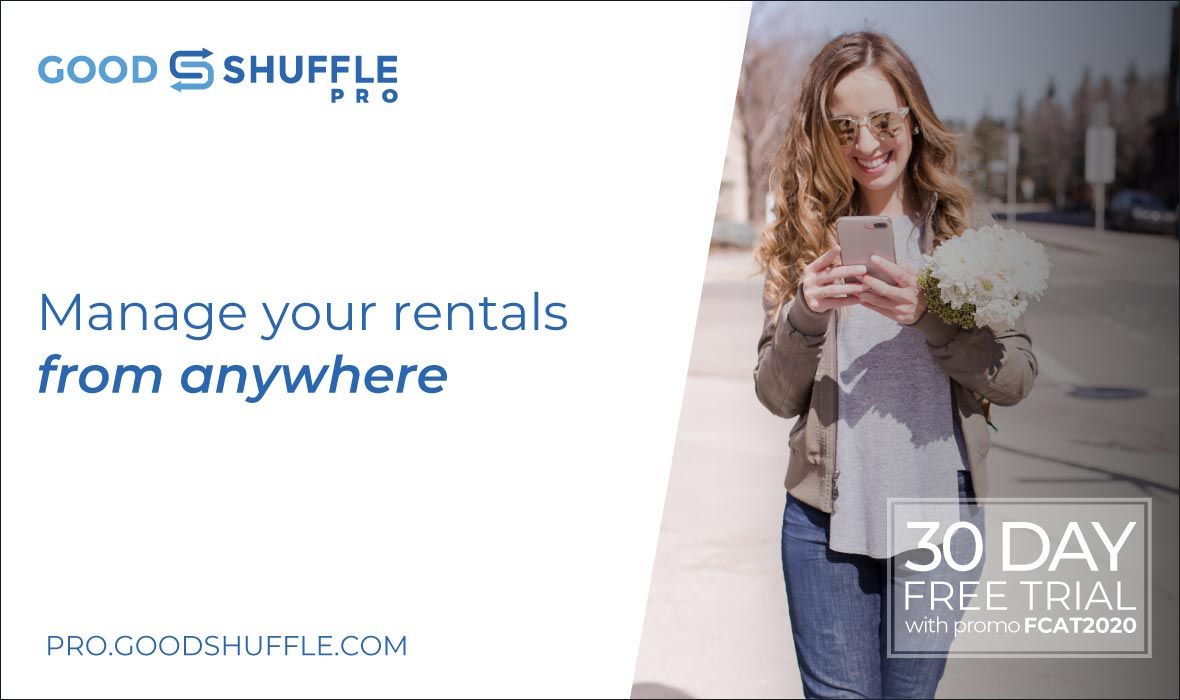 Determine Your Starting Capital
There are a few ways to save and set aside funds as you're starting capital for your rental business. The Small Business Administration lists a few ways to save cash when you are starting a business:

Distinguish Needs from Wants
Discipline yourself and determine the things that are necessary purchases and which ones can be put on hold. Invest in a coffee pot for your office instead of going to the coffee shop for that $3.50 coffee every morning. That adds up to an extra $875 a year in savings.

Buy in Bulk When Possible
In this article, we talk about purchasing your rental equipment and the importance of not over-purchasing. However, if you know that you will need a certain level of inventory, it's typically cheaper to order everything at once. We provide affordable equipment financing to our customers that need product but may not have the cash to make the purchase all at once. Instead of buying 50 chairs to start and 50 chairs at a later date, financing the purchase allows you to order your full inventory all at once. This reduces overall shipping costs and wholesalers provide bulk discounts with the majority of these rental products.

Factor In Your Expenses
When working on your budget, don't forget about the most important factor: YOU. This is assuming you will be attempting a startup party rental business head on and plan on dedicating all your time towards it. If you are not working another full-time or part-time job, your day to day living expenses will need to be handled. Whatever your current job pays you each month, it's recommended to have a three months salary saved in advance so your bills can still be paid while building your business.

Whatever your current job pays you each month, it's recommended to have a three months salary saved in advance so your bills can still be paid while building your business.
Purchasing Equipment
A large part of your initial costs for starting your rental company is the equipment you plan to rent to the public. Your business cards, website, and any other marketing materials are small costs compared to the cost of the equipment. You will need to sharpen your pencil and really focus on how to invest your startup capital. Here is a good list of items that several of our rental customers have purchased from us:

20 - 6 Ft. Rectangular Folding Tables
15 - 48" Round Folding Tables
15 - 60" Round Folding Tables
15 - Round Highboy Cocktail Tables
100 - White Plastic Folding Chairs
100 - Black Plastic Folding Chairs
100 - White Wood or Resin Folding Chairs

Depending on your budget your tables can either be plastic or plywood. Plywood will be more durable and will allow you to rent more times before needing to purchase replacement tables, but the initial cost per table will be more. When shopping for folding chairs, you want focus on the structure of the chair. The cheap $9 folding chair will look almost identical to the $12 folding chair. However, some chairs use stronger steel than others, some have drain holes in the seats, stronger hinge plates, others use steel rivets instead of screws. Speak with someone that specializes in this type of commercial furniture and ask questions about the different types of chairs. This equipment is an investment for your future and you want it to give you the highest possible return on investment (ROI). It's also important to not over-purchase equipment. Most new rental companies start with tables and chairs. Long term, you may want to add popcorn machines, tents, umbrellas, portable dance floors, or Chiavari / Tiffany chairs . Again, don't over-purchase to start. Work up to adding these products to your rental line.

The equipment is an investment for your future and you want it to give you the highest possible return on investment (ROI).
Pricing Your Equipment
Once the equipment has been rented enough times to pay off any initial cost, your rental business becomes pure profit. When you researched the rental market in your area, you should have pulled pricing from your local competition to get an idea of what they price their equipment at. Goodshuffle Pro advises you not to just look to your competitors' pricing; that should only be one component in the equation. If you decid to invest in the high-end equipment, but your competitors are renting the low-end equipment, your rental costs will not be the same. In fact, you will want to price your rental equipment higher to avoid losing money.

It's important to market your products as a high-end commercial product if your prices are going to be higher than your competition, because customers will more than likely be price shopping and you need to give them a reason to rent the more expensive stuff. Most plastic folding chairs rent anywhere from $1.25 - $3.00 depending on your location. Folding tables rent anywhere from $7.00 - $15.00 depending on the size and material. Figure your cost of each chair and/or table, and determine how many times you will need to rent each piece before you start seeing profit.
Insurance and Liability
You've invested money into your equipment, and your company relies on this equipment. If you are storing your product in a warehouse or storage unit, you want to make sure your investment is insured in case of accidents or acts of God. Sometimes rented items come back damaged, or maybe they don't come back at all. Either way you want to be covered and not have to worry about these concerns. On top of property insurance, you will want to look into liability insurance for your rental business. Liability insurance can cover anyone that was injured while utilizing your equipment. This means protection to you against equipment failure, damage, breakage and personal injury accidents. Shop around and find agencies that specialize in party rental equipment and liability insurance.
Licenses and Permits
If you are planning on signing a lease for a commercial location, or if you plan to use your home to start, you will need a business license. Home businesses are subject to all legal permits and requirements like any other business. Posting business signs outside your house may require a sign permit, and there may be zoning restrictions in using your home as a business location.

In addition to a business license, you will need a federal tax ID number, and a re-seller tax ID number. All new businesses must register as one of the following: Sole proprietor, Partnership, Corporation, or Limited Liability Company (LLC).
Building a Website
Several recent surveys show that over 45% of small businesses still don't have an online presence, and of the ones that do, only 6% bother giving a mobile experience to their customers. This is hard to believe seeing how the majority of consumers now do some form of search on the Internet prior to making a purchase. Every small business should have a website. It's cheap to set up, easy to maintain, and yet half of small businesses refuse to hop on board. Why? Your website is a form of exposure that can bring in a lot of business. Websites give your company a way to explain your products and services to the public without printing catalogs or mailing flyers out. If you feel you don't have the time to devote to this part of your business, then find someone who can manage this for you. A couple hours a week is all you need to maintain a website.
Other than your website, it is also recommended to dedicate time towards social media. (Facebook, Instagram, Pinterest). The more effort you put into marketing your business using methods that involve word of mouth, an Internet presence, and social media, the less money you will spend long term. Long term, you will want to invest either time or funds to pay someone towards improving the visibility of your website on search engines when people are searching for your types of products and services.
Marketing to the Public
There are several directions you can take when it comes to marketing your rental equipment locally:

Newspaper Advertising
Search Engine Marketing (Pay Per Click).
Signs and flyers
Word of mouth from friends and family.
Social Media (Facebook, Instagram, Pinterest, Twitter)

You can also hand out business cards to other business owners or drive out to venues and speak with event planners. Several event planners rent equipment for their events instead of maintaining an inventory of their own. Whatever methods you go with, it's important to analyze your marketing data so you can track which marketing efforts are giving you a good ROI and which ones are draining your resources. The ones that don't give a good return can be scraped and that money can be put towards marketing efforts that work.
Going Above and Beyond
The holy grail of your business, and the only thing that will separate you from the rest of the competition: customer service. You will service all types, from customers looking to plan small backyard parties to corporate event planners. Whether they are a one-time customer, or they continue to purchase rental equipment from you, they all have one thing in common: they will give you the best advertisement for your business. This all depends on the level of customer service you can provide to them. The customer may not always be right, but they are the customer.

No matter how far you go to provide quality service, issues can still arise. It's important to be prepared for anything and handle the situation appropriately. Don't think of these service related issues as problems for you, but as an opportunity to show the customer you will go above and beyond to resolve anything. People appreciate this level of service from companies and they will tell others about what happened, and what you did to fix it.
I hope this guide serves as a useful tool for all new and prospering rental businesses around the world. Share some of your thoughts, experiences, and advice in the comment section below for those starting in this industry!